Certified CNG Inspections
CNG vehicles require regular inspections by a Certified Fuel System Inspector in order to ensure the safety and integrity of the systems. Certified CNG Inspector, LLC can provide these inspections to help you to continue using CNG vehicles in your fleet and help you maximize the economic and environmental benefits of using these American fuels.
CNG tanks and fuel systems are required to be inspected by the National Highway Transportation Safety Administration every 3 years or 36,000 miles, whichever occurs first. Tanks, also known as cylinders, must also be inspected after a collision, vehicle fire, exposure to excessive heat, or if alleged damage has occurred to the cylinder. CNG vehicles and their cylinders should also be inspected if the smell of natural gas is present.
A Detailed CNG Fuel System Inspection Covers the Following: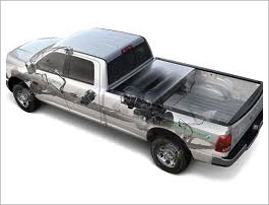 Cylinder Inspection – Review cylinder expiration date to ensure the cylinders have not exceeded their expiration date. Pressure rating of cylinders to assure that cylinders meet the system pressure rating. Visually inspect all cylinders for damage resulting from various situations such as:
> Abrasion, cuts, gouges and impact damage
> Accident damage – Cylinders must be inspected after any
accident exceeding 5 mph
> Heat Damage – Cylinders must be inspected if they have been exposed to a fire

Cylinder Mounting Bracket Inspection – Ensure that all Mounting Blocks, Brackets, and other Components are in Good Condition and Properly Secure.
Fuel System Inspection – Check for any Loose, Missing, or Damaged Components.
NFPA 52 – Review CNG fuel system installation for compliance with NFPA 52 Codes.

Pressure Relief Device and Vent Line Inspection – Visually Inspect the Pressure Relief Device and all vent lines for proper Installation and for any damage.
Shield Inspection – Visually inspect the cylinder shields for missing or damaged components.